Imagine a world where scaling your tour business is not only possible but also effortless. A world where your booking software becomes your ultimate technology partner, propelling your business to unprecedented success.
In this ever-changing world with fierce competition and customers craving unforgettable experiences, your booking software holds the key to unlocking new possibilities. It goes beyond just managing reservations; it can become the driving force behind your profitability, efficiency, and cost-effectiveness.
Think about it: as you set your sights on selling more tours, your booking software becomes the ultimate facilitator, streamlining every step of the process. It may have started as a humble tool to lighten your workload, but it holds the power to transform your business entirely. This is why we think it is important for you to understand its potential and hidden capabilities to enhance your guest experience and boost sales.
Enhance Distribution Efforts by Creating Strategic Relationships
If you are looking for ways to promote your tour package effectively without breaking the bank? Your tour booking software can help in collaborating with prominent Online Travel Agencies (OTAs) like Tripadvisor and Viator, as well as local travel agents, to tap into established networks.
This approach enables you to broaden your target market and attract potential customers. However, managing these new channels can be overwhelming. This is where your Channel Manager can help. It is a powerful tool integrated into your online booking system with a dashboard for monitoring your resellers. It streamlines partner and sales relationships, simplifying the management of resellers within your sales network.
The Channel Manager empowers you with real-time inventory mapping, ensuring consistency across all channels and preventing overbooking by any reseller. Moreover, it allows you to determine which products you want to offer to specific resellers.
For instance, with Zaui's Channel Manager, you have the flexibility to customize partnerships with resellers. You can choose to allocate limited inventory to certain online travel agents while providing greater availability to others. This tool puts you in full control of your inventory, allowing you to steer the partnership according to your preferences.
Apps and Integrations
Apps and Integrations are extremely important for tour operations. Imagine a tour operator or a travel agent who needs to manage bookings, payments, customer information, distribution, waivers, and more. Without integrations, they'd be juggling multiple systems, drowning in a sea of spreadsheets, and wasting precious time on manual tasks.
But with the right integrations, a transformative shift occurs, the tour booking software can seamlessly connect with other important tools such as digital waivers, photo marketing tools, email marketing platforms, and analytics tools. Hence it's important to know which integrations are important for your business and if your booking software provides the capability and support to integrate with them.
For instance, Zaui provides access to over 80 integrations in its marketplace and has been at the forefront of technological advancements in the ResTech realm. By having a reliable online booking system at your disposal, your team can be relieved of a significant burden. When the busy season arrives, it becomes nearly impossible for a small team to manage all aspects of your business while ensuring the satisfaction of your guests.
Run Your Business On-the-Go With a Mobile App
When Enabling your business to operate on the go will enable you to capture more bookings from customers who are already at their destination. Your street team and guides can easily access information about the next available tour or activity, make bookings for guests, and accept payments using tablets or smartphones. By doing so, you can eliminate long queues and check-in guests efficiently, either by referring to the activity manifest or by scanning QR codes from tickets or mobile devices.
Additionally, having the ability to connect your mobile device with various compatible hardware components, such as cash drawers, receipt printers, credit card swipers, and scanners, will help streamline your payment processes.
Elevate Guest Experience with Digital Waivers
Are you still relying on traditional paper waivers? By failing to embrace digital solutions, you're missing out on an opportunity to modernize your business and elevate the satisfaction of your customers.
Dealing with last-minute paper waivers often leads to long waiting lines, resulting in an unpleasant experience for your guests. As your business grows, it becomes crucial to prioritize a seamless check-in process for your customers.
By implementing digital liability waivers, you can streamline the waiver process and eliminate the frustrations associated with paper forms. These digital waivers can be sent to guests immediately after booking or shortly before their arrival. Guests can conveniently access and sign the document from the comfort of their homes or while on the move, using their devices. This approach effectively eliminates any unnecessary delays on the day of check-in.
Through integrations with renowned platforms like Smartwaiver and Wherewolf, your tour booking software can empower your business to enhance your operations and customer satisfaction.
brand.
Transform your Guest Experience with Automated Communication
Maintaining constant communication with your guests is essential to ensure a smooth pre and post-tour experience. Even after their trip, you have numerous opportunities to gather business reviews and entice them with enticing offers for their return.
By automating emails and SMS, you can streamline these communications and eliminate the tedious task of manually creating emails for each booking. An online booking system can be immensely helpful in this regard. You can pre-compose emails within your reservation system and schedule them to be sent at specific times and dates.
Here are all notifications necessary for your business: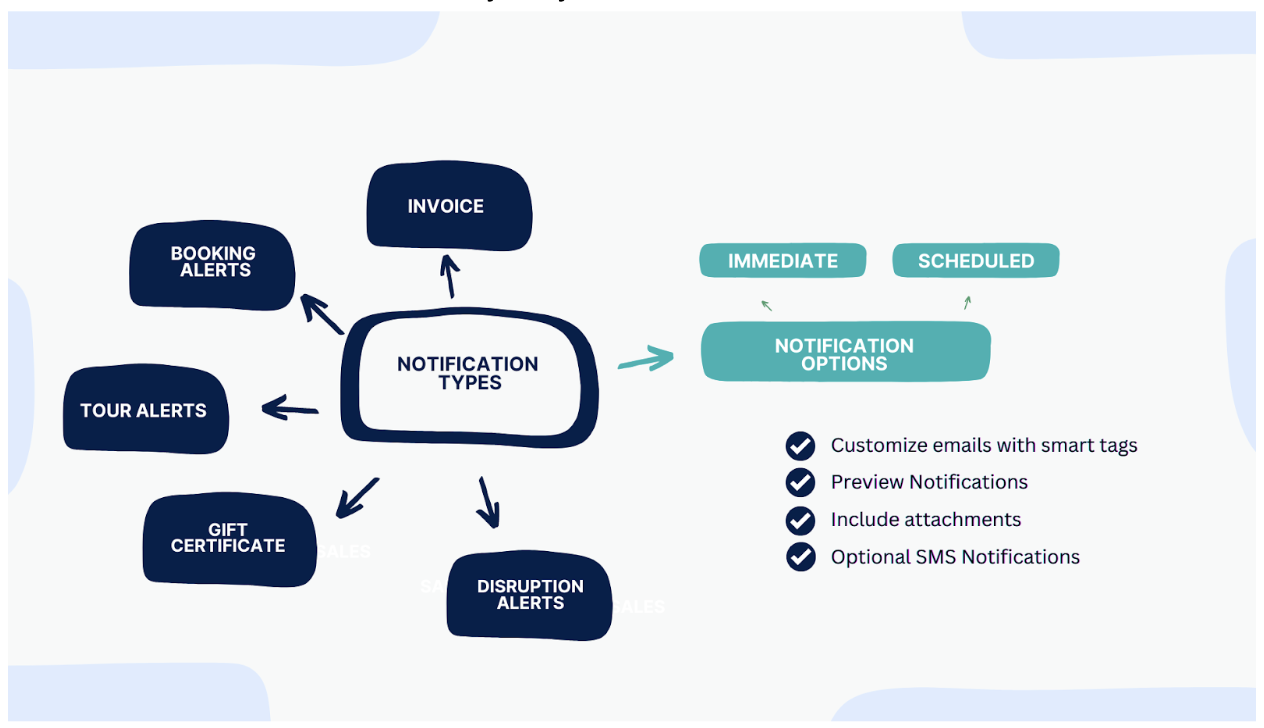 Enhance your Reporting Capabilities with Custom Reports
Imagine gaining invaluable insights into the top-performing sales channels and best-selling activities, empowering your business with previously inaccessible knowledge. By harnessing the power of relevant data tailored to your specific needs, you can increase the potential to optimize your marketing, sales, and operational strategies.
With the help of insightful and customized reports, you gain the ability to make informed decisions that hold significance and meaning for your business. Therefore, it is vital to explore the capabilities of your booking software, as it holds the key to uncovering deeper insights and helping you make more profitable decisions for your business.
Additional Tools For Boosting Your Sales
Now that we understand some ways in which your Tour Booking Software can help you unleash your potential. Here are a few additional tools that are a must-have for every tour operator looking to optimize sales and revenue:
Get More Bookings with a Strong Social Media Presence
Social media plays a massive role in customer decision making especially in the Tour and Travel businesses. Travelers today are greatly inspired by visual content such as reels on TikTok and Instagram when they are planning to travel. To tap into the curiosity of these potential guests, it's vital to leverage social media marketing effectively. Here are tips to enhance your social media presence and sell more tours online:
Develop a strong social media strategy aligned with your goals and target audience.
Select the ideal platforms and post consistently, considering the best posting times.
Provide informative, educational, and entertaining content rather than solely promoting your products.
Analyze competitors' strategies, content, and hashtags to identify areas for improvement.
You can refer to Zaui's comprehensive social media marketing tips for tour and activity operators, covering persona creation and content calendar structuring. Implementing these tactics will help you engage with your audience and convert them into enthusiastic guests.
Explore opportunities on Google
As a Tour Operator, there are numerous Google surfaces that can be explored to reach potential customers. From driving inspiration to becoming an integral part of their research, Google has it all. Here are a few platforms that are important for growing tour sales:
Google My Business (GMB)
Google My Business (GMB) serves as a directory, making it an ideal starting point if you want to boost your business's visibility. By creating a Google My Business profile, you can effectively showcase all the essential details that potential clients seek, such as operating hours, a business description, customer reviews, photos, location, videos, and other pertinent information. It's completely free to set up your profile. Doing so can provide your travel company With an increase in your search visibility for terms related to your tours, making it easier for customers to find you and a platform to get reviews that can help increase the likelihood of getting more bookings.
Google Things To Do
Google Things to Do is an addition to Google Travel Portfolio designed to enhance the way users find and book tours, activities, and attractions. It allows users to explore and uncover new experiences and landmarks and enables them to book directly through a supplier's website. This serves as an opportunity for Online Travel agents and Tour Operators to be discoverable on Google Maps by optimizing their listings for direct bookings on their websites.
Final Word
Expanding your business is a big step. While setting up your business for further growth, ensuring that you have the necessary resources to make a move is important.
If your business has an online booking system, ask their team about the tools and features that can help scale your business.
If you are looking for booking software with the potential for long-term partnership and scalability for your tour and activity business, we can help you! You can book a call with us and learn more about the Zaui features that can support your business.
Book a demo with us today.