It's not too late!
5 Great Days, 60+ sessions, 1 Engaging Virtual Event
Join Us at the most important event for our industry this year
Fotaflo is excited to announce our participation at Arival 360. This online event includes 4 jam-packed days of insights and practical advice, plus exclusive access to the Networking Accelerator day.
With 60+ sessions planned between 26th October to the 5th November there's a lot of learning available! Non-stop connections are available throughout the two weeks providing you with great opportunities to build new partnerships and strengthen your existing ones.
Use our promo code PTFF36020 when you register to receive a 75% discount and pay as little as $99 for all five days. Discover what else your pass includes here.
An experience like no other...
Gain a global perspective on trends, customers, leadership and more. Each day will focus on exploring one of the four key questions occupying tour operators minds: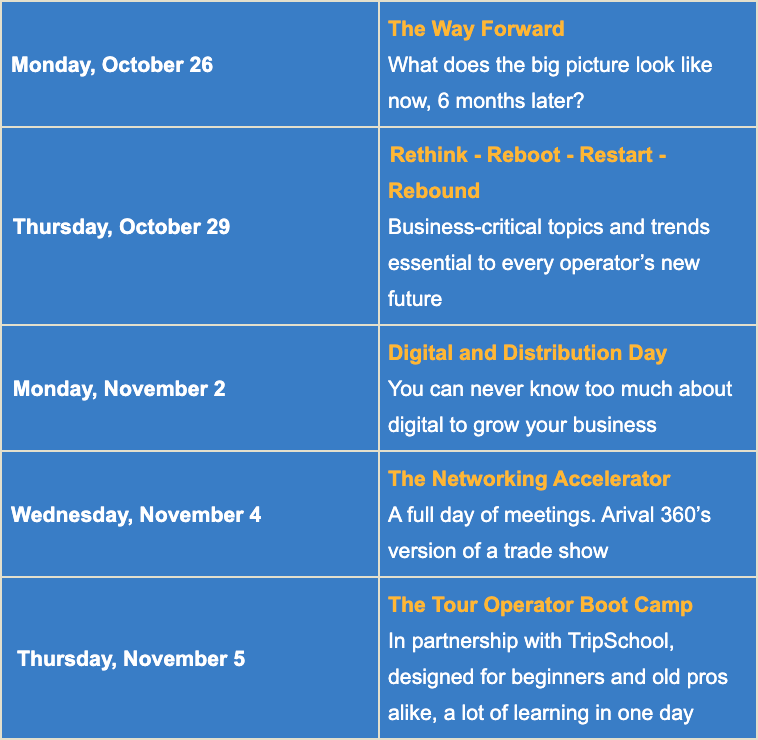 With amazing headliners, 4 days of dedicated content , and the opportunity to come away brimming with ideas and solutions to your challenges, Arival 360 provides unmatched insight, inspiration and learning
Register and login for any part of the five days including a full day of networking. Tickets for small operators start at $99. No one will be turned away due to price, you can apply for a free ticket if needed.
We hope to see you there!