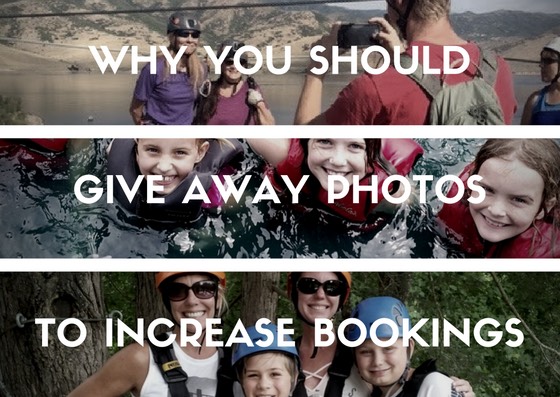 The clear second reason why anyone does any tourism experience is to get a photo or video of their experience. In today's society it is often becoming the #1 reason for guests' buying experiences; is the act of getting and sharing photos of the experience.

With this understanding, tourism businesses have a significant opportunity to increase inquiries and leads to bookings by promoting free photos around their calls to action. Considering the importance of photos to the consumer the more prevalent this message is surrounding the call to action the more opportunity a tourism business has to convert.
By communicating that free photos and videos are included at no charge you will differentiate yourself in your market, especially if you're a tourism business that historically sells photos, or could sell photos. Often for tourists, they narrow their choices down to one of two options. Consider when a guest is choosing between two similar activities and one provider promotes free photos while the competitor will be happy to sell you photos of your experience for $29.95, which one would you choose?
We're seeing more and more businesses recognize that providing free photos is a competitive differentiator for them when competing with nearby tourism businesses. To get the most value from offering free photos we recommend promoting the offer in several locations and at multiple times in the guests interaction with your marketing and sales operations:
On your website home page.

Near every book now button.

During all phone inquiries, it should be mentioned "photos are provided and are free".

During walk-ins and when guests are checking in.

Included and prevalent in all social accounts.

In your review page descriptions.

In your booking confirmation email.
Remember, in today's world if a tourist didn't get a photo of their experience it's almost as if the experience never happened. For tourism business that truly understand and empathize with their client's perceptions, free photos is a critical offering. For the businesses that promote free photos, they reap the benefits of converting more leads and inquiries to bookings, they do this by meeting their customer's expectations and differentiating themselves from their competition.