We love connecting with our clients to learn how they use Fotaflo to grow their digital following. We asked operators how they use guest photos to create engaging social media content for Facebook, Twitter and Instagram.
This is different from the staged marketing photos that you might be taking for your own content. Guest photos, taken as part of your photo marketing solution are an easy source for new photos. We asked the operators for their feedback on how they use guest photos and they graciously shared some details with us.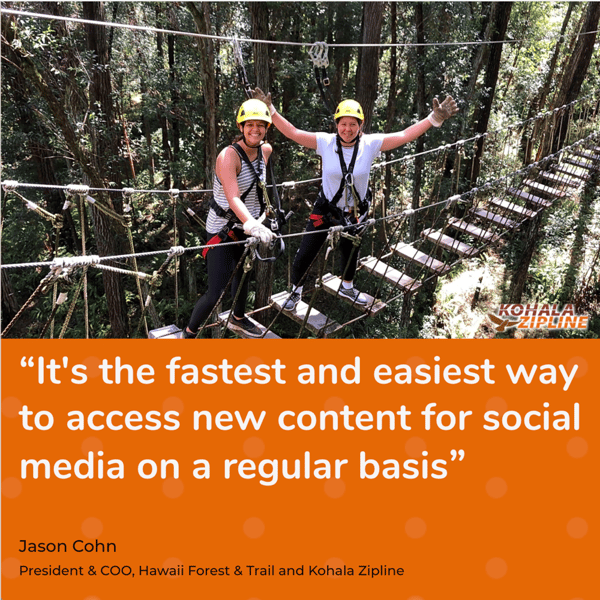 Quality photos for quality posts
One of the most difficult parts of posting to social media is having to constantly create new content. And staging photos can be a pain, you have to find staff and other participants and find time to organize when and where to take them.
The guidelines we provide to take photos of your guests that they will want to share also apply to you. Follow these guidelines to start snapping quality photos made for your timeline that you will be excited to share.
Use standard photo locations
Standard photo locations result in highly shareable photos for your guests. Choosing standard photos for your activity provides your guests with a consistent service and it becomes a natural part of your staffs workflow. Make it easy on yourself and start with just one photo location at the beginning of your experience.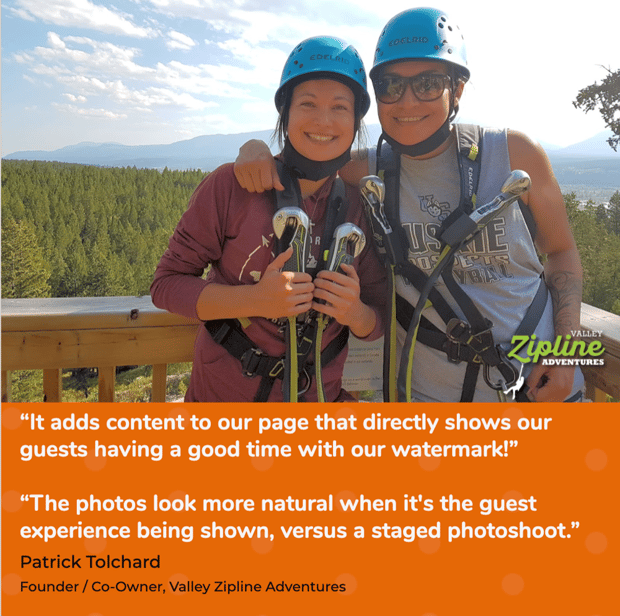 Take intentional photos
Intentional photos are planned photos. Instruct guides and staff to direct guest(s) (i.e. where to stand, which direction to face) to capture the best and most consistent photos.
Intentional photos should clearly show your guests participating in the experience. We recommend taking a mixture of up-close photos and photos from a medium distance so new or returning guests can see the gear, kayak, horse, whatever elements your experience includes.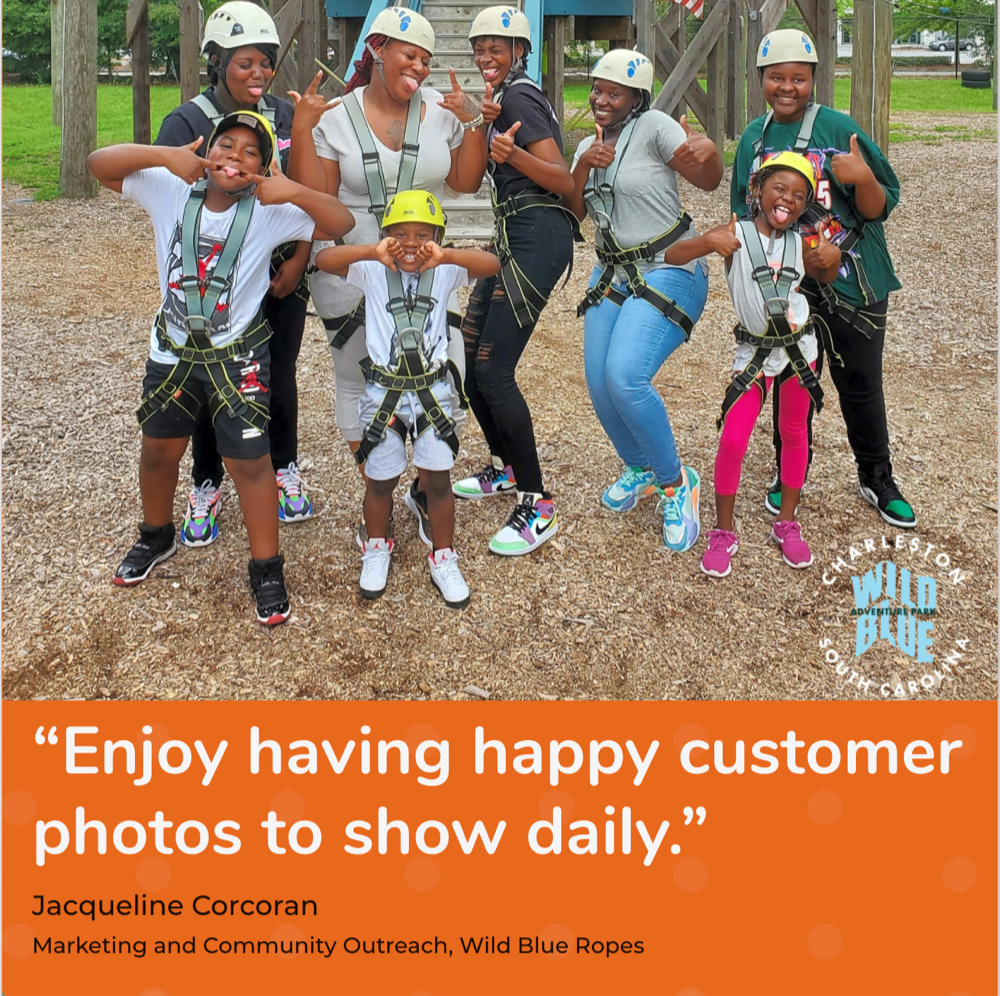 What information should businesses include in their social media captions?
Potential or returning guests interested in your experience will often check your social media accounts for updates on your business. Use guest photos as part of your social media strategy to rotate fresh and useful content.
Include information like availability, weather, booking instructions and more to keep new guests updated on what they can expect. This is where you get to be fun and creative with the text that goes in the post!
Availability
If you have a vacancy that you want to fill up, create a post that lets potential guests know about that time slot. Alternatively, if you're fully booked up, let people know so they don't show up disappointed — and provide options for future times or dates
"We have limited space left for this weekend, so make sure you book ahead to ensure availability!"

"We are fully booked today, but we do have space at our Adventure Tower! We have availability on the Ziplines starting again tomorrow afternoon."
Weather Updates
If your experience is weather dependent, it's important to let people know. What are the conditions that day? Should guests bring a sweater, rain jacket or apply sunscreen?
Including this information in a general post is thoughtful and can also reduce excessive customer service calls on rainy days.
"Mother Nature is unfortunately not cooperating with tonight's plans. We will be closing early this evening, (date). If you have a reservation for tonight, you may reschedule (contact information)"

"The forecast has some great weather, so we can't wait to see you. 🤩"

"Attention climbers: We will be closed today, (date) due to weather. 😭"
Encourage to book
This is a little different from communicating your immediate availability. Remind potential guests why they should book with you.
"Bachelorette and Bachelor parties can accommodate groups of all sizes, so let's get this party started! Give us a call (phone number) or shoot us an email (email address)"

"Birthday parties are NOT cancelled! Let us help you throw a bash like no other in (location) 🥳🎉🎂"

"Zipping through the canopy or navigating one of five sky bridges is an adventure you won't want to miss when you're in (location)"

"Dinner date? So cliche 😒 Movie night? Not right now 😟 Exploring the tree tops? 😍😍😍 Now that's a memorable date! Connect with your date in a new way"
Thank you's
Show appreciation for your guests by saying thank you in a personalized post.
"Grateful for all the amazing folks who have come out to climb with us!"

"We had an absolute blast with this family on Saturday. Thank you so much for dropping in!"
Guest Reviews
You've worked hard to have your guests write a review about their experience. Guest reviews and testimonials make fantastic content to include in your social media content strategy.

Memories
Keep your social accounts active during slower months or your off-season by sharing photos from throughout the year. Make a post on a Thursday and use the hashtag #throwbackthursday
"The forest was looking a little greener when these guests came zipping through the canopy with us in December!"
Photo offering
Fotaflo is passionate about making it easy to capture beautiful and long-lasting memories. Let your guests know that you offer or provide photos of their experience — so they don't have to worry about it!
"Picture perfect every time on the popular (tour name) with us. Let us take care of the pictures for you so that you can focus on the experience at hand. Book now before the season ends! Visit (website) for more info"
Editing photos
You can always simply use the photos as-is with the logo branding included, but some operators add text, animation or make collages with the photos.
Some of the apps our clients use for editing are Canva, Instagram's Boomerang (Android/iOS), Instagram's Layout (Android/iOS), and Markup.
Text and Animations
Spice up the photos by including text animations like Wild Blue Ropes.

Collages
Share several photos at once by creating a collage.


In Summary
Using guests photos should not be your only source of content, but having a constant source of fresh photos to add to a post in addition to the professional photos that you use for other marketing initiatives is another valuable benefit of having a photo marketing solution for your experience.

Guest photos are an engaging addition to your social media strategy and photo solutions like Fotaflo make it easy to start sharing your customer reviews and experiences. Interested in learning more? Contact us today.