Enhance the Guest Experience Through Photo Marketing
People pay for experiences for two reasons.
They want an amazing memory
They want photos of themselves enjoying the experience.
This represents a huge opportunity to use the power of memory marketing to improve the guest experience. Offering free photos to your customers, along with your activity, allows you to better meet the needs of your potential customers and convert more inquiries into bookings.

By prioritizing this messaging in all of your tour or activity's marketing, you are helping your clients get what they want when they book an experience with your brand.
Giving away free photos gives your business a direct, tangible, and valuable differentiator compared to your competition who are still selling expensive photo packages, or not even providing photos at all!
In fact, simply providing free photos to your customers can dramatically improve the guest experience. Here's how:
Free Photos Can Seal the Deal
When guests are looking for an activity, whether they are local or travelling, they are looking for value. They want to know they are getting the best experience for an affordable price.
If you were a guest browsing for activities for an upcoming trip, free photos could be the deciding factor between your business and the one down the road.
Here's how Historic Banning Mills advertises their offering.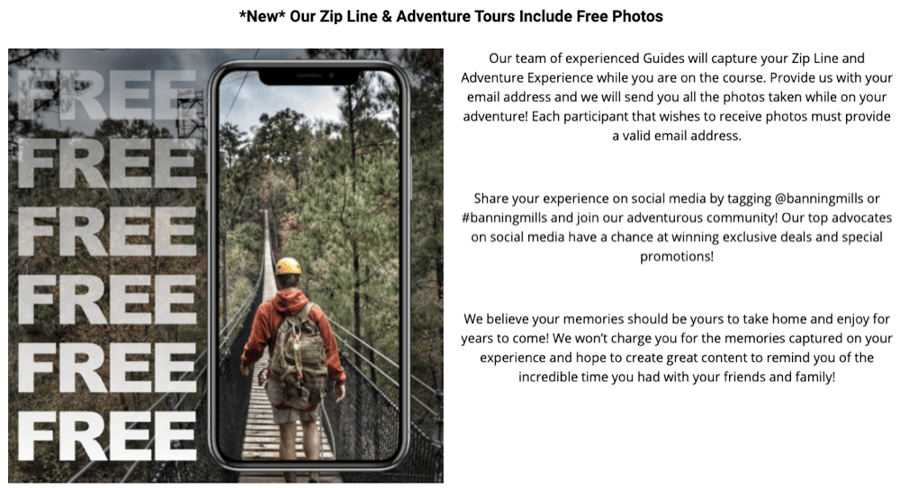 Kyle Werner, Marketing Manager for American Adventure Park Systems and Screaming Eagle Adventures provides a very clear endorsement of advertising free photos...