Automatic reminders are a key feature to building an ongoing hands-free word-of-mouth marketing engine for your business.
We added two improvements to automatic reminders in Fotaflo.
Annual Reminders
An additional Guest Segment
Automatic reminders let you define messages that will automatically be delivered to certain segments of guests after a certain number of days have passed since they received their original photos.
Using reminders you can define messages to send to guests 1, 2, 3, or more years after they originally visited your business. This lets you define specific content for each year if you want to: "It's your 5th anniversary of your visit. Here are your photo memories to share again with your friends and family!".
We just added a new option to reminders that lets you choose to have them repeat annually. If you don't want to come up with custom messages for each year you just create one reminder and then set it to repeat annually.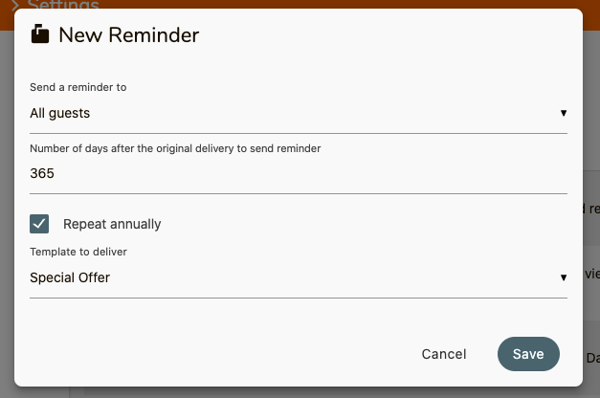 We already created segments for All guests, Guests that haven't visited their album and Top Advocates. This update now allows you to send a message to guests that have not generated a referral lead. This allows you to target these guests and genuinely ask them to share their album with friends and family which creates more word-of-mouth marketing for your business.
Automatic Reminders are a feature of our Standard Plan. Get in touch if you'd like to upgrade to take advantage of this set-it-and-forget-it marketing feature.