Now that the holidays are over, you've already finished your new puzzle and you are looking for something to do.... why not reconnect with your past guests by re-delivering their photos to them.
Reminders are a powerful way to amplify the emotional connection guests have with your brand long-term and extend the social reach of your photos.
This is really easy to do by using the Manual Reminder functionality. Manual reminders are often used to resend an album to guests that have lost their email, but you can also use it to send a specific message to your past guests.
Create a template
Create or update the email and SMS template you would like to send to your guests on the Templates setting.
Main menu > Setting > Templates > + Add a Template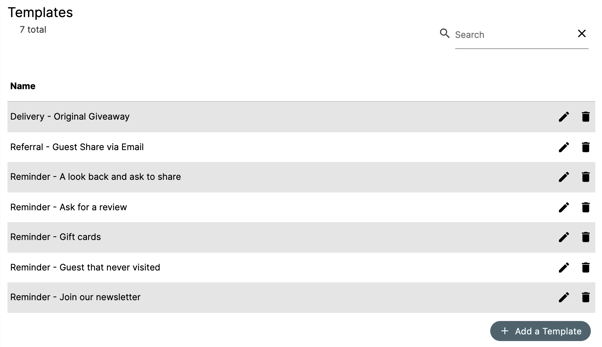 Configure the template in the Email setting
Confirm the template you want to deliver for manual reminders.
Main menu > Setting > Email > Templates Tab > Notification Type: Manual Reminder Template: Template Dropdown > Choose your template

Remind one guest in an album
Follow these steps to send a manual reminder email:
Go to the Main Menu button and select Guests
From there filter to the segment of guests you want to deliver to. (ie. a specific date range)
Use the action menu (three vertical dots) on the guest card to Edit the album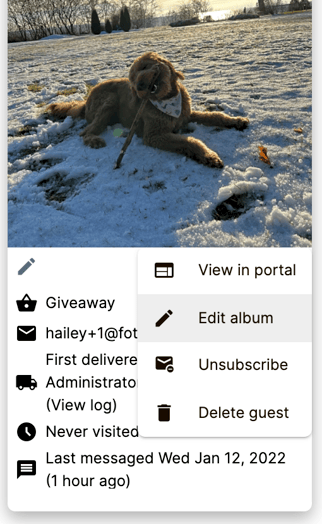 In the album, along the line that shows the email or phone number of the guest, you will see three vertical dots
Click the three vertical dots along the row of the contact information of the guest you would like to remind
Click the Remind option

Remind all guests of one album
Once in an album, you can remind all of the guests at one time by clicking the three dots above the contact information.