Automatic reminders are a key feature to building an ongoing hands-free word-of-mouth marketing engine for your business.
Automatic reminders let you define messages that will automatically be delivered to certain segments of guests after a certain number of days have passed since they received their original photos.
We just added a new option to reminders that let you decide if that reminder will be delivered by email, SMS or both.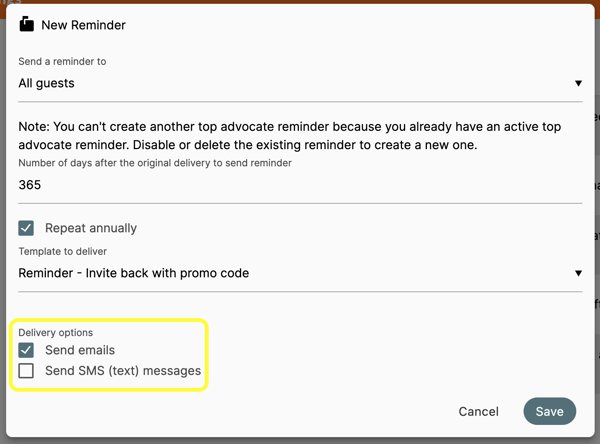 Reminder Segments
Guests that haven't viewed their album
Guests that are on holiday may not view their album right away and this is a nice reminder letting them know their album is ready to be viewed. This is a great time to use both email and SMS delivery.
Guests that haven't shared their photos
This allows you to target these guests and genuinely ask them to share their album with friends and family which creates more word-of-mouth marketing for your business. You can include content and incentivize this CTA to share their photos by offering a prize to the guest that generates the most referral leads. Use the email delivery for this reminder.
Guests that are top advocates
Choose the minimum number of referrals in the past month for your top advocates to qualify to receive this unique reminder. Your top advocates have already participated and shared your experience with friends and family. It is important to invite these guests back with a special offer (promo code with a significant discount) as your own micro-influencer. Use the email delivery for this reminder.
All Guests
There are two main call-to-actions when delivering reminders to all guests:
Ask for a review: Using a shorter timeline (1-10 days) send the photos to your guests again with a CTA to write a review. Use both the email and SMS delivery.
Invite guests back to your business: an annual reminder with the guest's photo memories is a great time to invite your guests back to your business. Only use the email delivery for this reminder.
Birthday Reminders
This reminder is only available with our The Flybook integration. Automatically send an email with photo memories to guests around their birthdays. You can choose the time in advance or after their birthday and a custom message in this reminder. Use both email and SMS delivery.
Automatic Reminders are a feature of our Standard Plan. Get in touch if you'd like to upgrade to take advantage of this set-it-and-forget-it marketing feature.