We've been working on some important improvements to the Fotaflo iOS app that will be released shortly.
Background uploading
Previously the Fotaflo app had to be kept open in order for uploads to complete. In the upcoming release we're making a change so that uploads will continue in the background.
Because of limitations that Apple puts on iOS you will still see faster and more reliable uploading if you open the Fotaflo app, but you won't need to keep it open once the uploads begin.
Uploading notifications
You'll see notifications on your device if there are uploads waiting in the Fotaflo app.

The notification will also let you know if there is no internet connection.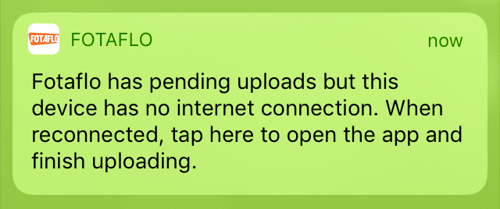 The improved notifications should make it obvious if there are uploads waiting and if they are prevented from uploading because there's no internet connection available.
Improved camera functionality
The camera in the Fotaflo app has been improved so that it allows the same functionality as the built-in camera app.
The maximum photo resolution has been increased from 8 megapixels to 50.
If you have a newer iPhone with multiple cameras you can select and use any of the cameras available on your device.
Import existing media
You'll see a new import existing media button on the top bar so you know longer have to navigate to the history view to import media.

We hope these changes will make your operations simpler and easier. We're looking forward to sharing more upcoming changes in the near future!