Fotaflo will be attending Arival 360 San Diego and we can't wait to see you there for an industry reunion.
The four-day event held on Feb 1-4, 2022, is dedicated to owners and operators of tours, activities, attractions and experiences - helping them grow their business and reach more travellers.
Arival 360 San Diego will focus on celebrating the industry, exploring new opportunities, as well as hands-on education.
The Fotaflo team is excited to be showcasing our innovative memory marketing platform that simplifies and automates the distribution of photos and videos to the customers of tour and activity businesses.
With Fotaflo, your guides can take photos, upload them to our platform and distribute them to your customers, all in an automated and centralized system that removes the necessity to handle customer phones or cameras.
Not only does this help your guides focus on what matters, delivering a superior experience to your customers, it also helps your business realize a significant number of photo marketing benefits as well.
By providing guests with photo memories of their experience with your brand on a custom-branded website page, you'll improve the guest experience and generate better online reviews, gain referral bookings by encouraging past customers to share their experience on their social media pages and you can use the opportunity of memory marketing to generate repeat business.
Want to hear more about the Fotaflo platform? We would love to see you at the event and show you exactly how it works. Register for Arival 360, and use our code MC36010X, for 10 percent off.
We can't wait to see you there!
Join the discussion and attend Fotaflo's buzz session on Feb. 2 at 11:20am at Arival 360 San Diego
At Arival 360 San Diego, Fotaflo's President and Founder, Ryan O'Grady, will be hosting an educational session on how tour and activity operators can generate more referrals and repeat business.
The session, 'The R&R Approach: Building Stable Growth and Longevity in Our Business', is an interactive buzz session designed specifically for you and activity operators to discuss and share how to drive repeat and referral business.
Ryan O'Grady - an expert in social word-of-mouth marketing, advocate marketing, user-generated content and memory marketing - will present proven techniques any operator can adopt to increase referral and repeat bookings.
The brief presentation will be followed by a practical roundtable for operators to discuss R&R approaches that lead to successful, yet sustained business growth and longevity.
We hope you can join and learn something that helps your business grow!
What is Arival 360 San Diego?
Arrival is a networking, educational and growth event specifically for businesses in the tour, activity, attractions and experiences sector. The exhibition helps businesses in these industries grow through:
Leading-edge insight and inspiration: The event has keynotes, interviews, panels and talks with leading experts in tourism and technology innovations, providing insights, lessons and new strategies to help those in attendance grow their business.
The exploration of new partnerships: One of the best networking opportunities in the tourism community, Arrival 360 San Diego brings together OTAs, online reservation system providers, marketing experts and technology innovators to help businesses identify new partners that drive their business forward.
Discussions on new trends: Arrival 360 San Diego represents a great opportunity to connect with industry peers, partners, experts and friends so that those in the sector can catch up on the latest happenings and trends in the tourism world.
Hands-on learning: With both workshops and practical educational sessions that cover topics from digital marketing to guide training, the event provides you with a chance to learn about a range of new topics that could help grow your business.
Interested in learning more about Arival 360 San Diego and how you can meet the Fotaflo team at the event? Get in touch with Fotaflo today. Our team would love to answer any questions that you may have about both the event or our innovative memory marketing and photo/video distribution platform.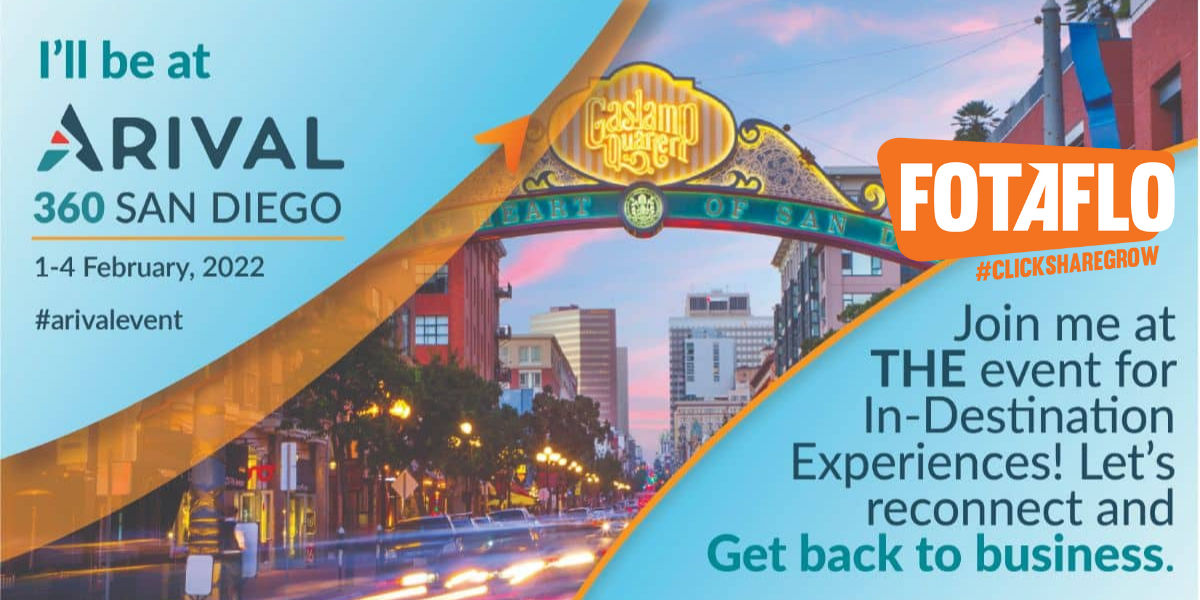 Not able to meet us at Arival 360 San Diego? Don't miss out on learning how Fotaflo can help you grow your business in 2022. Book a demo to find out first-hand how it all works.